Groups & Individuals
Tailor-made trips, crafted by experts
Inspiring travel in Colombia
Colombia57 is expert at designing tailor made programmes for both Group and Individual travel. Partnering some of the most established and respected tour operators in Europe, North America and Asia, our expertise in researching product and creating itineraries to suit differing requirements & expectations is unsurpassed in Colombia.

We are committed to providing honest and professional local advice, rapid response times and through strong relationships with our suppliers we deliver excellent quality and competitive pricing. Our concentrated efforts ensure that our portfolio of hotels, transportation, guides and destinations is of the highest calibre and we will not recommend anything without thorough review and control.
All guides & escorts have been chosen for their knowledge of the country and/or specific region are trained in the importance of using his or her skills to make every client feel comfortable and welcome during their stay.
All hotel accommodation is regularly inspected and every effort is made to offer best available rates.
Colombia57 is also able to offer air tickets for individual and group travel within Colombia on Avianca, LAN Colombia and other domestic carriers.
For more information please contact our sales team at info@colombia57.com
Speak to one of our experts. Call our concierge on +57 886 80 50
Contact Andres Mesa.
One of our Destination Specialists to begin your tailor-made trip.
Suggested activiy for your trip in Colombia.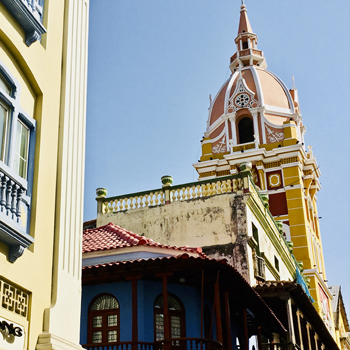 Walk through the Historic Center of Cartagena
Your guide will divulge the myths and legends, histories and stories of Cartagena from ancient time's right up to the present: Also enjoy a historical visit to the Inquisition Palace, considered one of the most elegant buildings in Cartagena, characterized by its outstanding colonial architecture.

-->

Colombia57 Tours Travel & Logistics Ltda.