The Amazon is a 4,400-mile river system with thousands of tributaries covered by a broadleaved forest that provides home to over 160 separate indigenous societies and refuge to millions of species, many of which are still to be described. Pink River dolphins, Jaguars, Tamarin Monkeys and thousands of birds and butterflies inhabit the waterways, jungle floors and in the canopy's high in the tropical forests. Sleeping under a star filled tapestry while listening to a nocturnal chorus of Jungle sounds highlights the grandiose of this species-rich biome. Travel to this part of Colombia may be slightly involved but the rewards are endless in the world's most important ecosystem.
Contact .
One of our Destination Specialist to begin your tailor-made trip.
Suggested activiy for your trip in Colombia.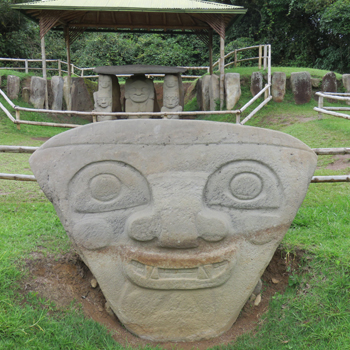 Pre-Colombian influence archaelogical tour.
here in San Agustin allows you to get a great overview of the region and its importance as a site of Pre Colombian influence and civilization. The day also gives you a chance to experience the rugged beauty of region and its mountains and valleys. You will be able to see the biggest figure found in the area, with an approximate height of 6m.
Colombia57 Tours Travel & Logistics SAS